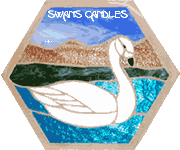 Candle Making Books
DESCRIPTION PRICE
---
The Candlemakers Companion by Betty oppenheimer $17.95
A complete guide to rolling, pouring, dipping, and decorating your own candles. From wax to wick to wrapping, the magical glow of a handmade candle is now easier to create than ever before. With the illustrated step by step instuctions and complete source lists.
---
The Beginners Guide to Candlemaking by David Constable $21.95
Beginners Guide to Candlemaking book by David Constable illustrates simple projects to show how easy it is to make beautiful classic candles, spiral candles, coloured candles, container candles, perfumed flower candles and floating candles.
---
The Candlemaking Creative Designs and Techniques by David Constable $21.95
Candlemaking book by David Constable. Master the basic techniques and discover a whole world of creative candlemaking. Shows how to make dipped, moulded, and novelty candles. Those illustrated range from simple twisted, one-colour, and perfumed candles to candles with embellished surfaces.
---
Making Candles & Potpourri by Catherine Bardey $9.98
Create a relaxing oasis of serenity, comfort or romance in any room. Step-by-step directions explain the techniques of candle and potpourri making--from scented, hand-dipped tapers to decorative column candles to aromatic mood enhancing rose petals that readers can use to decorate and fragrance their homes.
---
Gel Candles 40 creative designs by C. Kaila Westerman $13.95
Candle Gel is the hottest new product in candle crafting. This new material (95% mineral oil, 5% resin) is transparent and extremely easy to clean up. Learn the basics og making Gel candles in 10 easy steps, and then explore the endless possibilities for creating special effects with color, swirls, bubbles, interesting containers, and embedments, such as glass, shells, botanicals, and opaque waxes.
---
Making Hand-Dipped Candles by Betty Oppenheimer (32 page Booklet) $3.95
Covers all the basics of hand-dipping This is excerpted from the Candlemakers Companion. Complete troubleshooting guide.
---
Selling Your Crafts at Craft Shows by Madelaine Gray (32 page Booklet) $3.95
Madelaine Gray has sold her work at craft shows for several years. She has interviewed hundreds of exhibitors and promoters as part of her work as a reporter for a craft show newspaper.
---
Encaustic Art How to Paint with Wax by Michael Bossom $15.95
Encaustic How to Paint with Wax book by Michael Bossom. With just a few wax colours, some card and a small electric iron, a whole range of cards, gifts and paintings can be made easily and quickly.
---
Encaustic Art Project Book by Michael Bossom $18.95
The Encaustic Art Project book by Michael Bossom. Encaustic art is fascinating, fun and so easy to do. Learn how to create vibrant wax paintings in no time at all.
---